Caffeine Zone™ 2 realtime monitoring of caffeine levels
Caffeine Zone™ 2 is an iPhone app (over 99,800 downloads) that monitors, predicts, and displays a user's caffeine level in real-time based on a pharmacokinetic model of caffeine and the user's input of when they consume caffeine. It can be used as an educational tool to teach about caffeine (i.e., the time course of caffeine based on when it is consumed) and how to use caffeine products more wisely and effectively (i.e., many probably consume too much caffeine, see here for a humorous anecdotal account that a user pointed out to us). The app was developed by the ACS Lab at the Penn State University (as unfunded work after a grant ended) and spun out using a small company with written permission of ONR and Penn State where we are transitioning this research out of the lab into the hands of users.
Caffeine Zone™ 2 users can enter their caffeine consumption and the app generates a line chart of predicted caffeine level displayed for the next 24 hours. The display allows the user to monitor their caffeine level over time. It also shows a cognitive active zone, an area of level where most people will feel active, and a sleep zone, an area of caffeine level where most people will be able to sleep (pharmacodynamics). People vary and these zones can be changed to represent individual differences. There are a lot of factors leading to individual differences, and including them would be difficult and including their interactions would be impossible—so it is adjustable.
It runs on the iPhone, iPod Touch, and iPad, so it is highly portable and easy to use. We will be extending it and continue to test it. Comments, discussions, collaborations, and sponsorship are very welcome.
Caffeine Zone 2 Lite (Free with Ads)

Caffeine Zone 2 ($0.99 without Ads)
The app is based on research sponsored by ONR but was developed after the grant ended using exclusively non-ONR resources. The results in the app are consistent with the Institute of Medicine/National Research Council's suggestions for use of caffeine in the military [cached copy], and CaffeineZone includes as a menu item the caffeinated gum found in some rations and available in many convenience stores. Caffeinated gum was developed in cooperation with Walter Reed (e.g., here), and has an NSN number, 8925-01-530-1219. Also see an article on SEALS using caffeine (likely precursor report in DTIC), a McLellan's article, a Navy report, and a review by Canadian Forces where caffeine has a significant effect. Similar effects of caffeine as an aid for high-tempo operations or extended work hours can be seen in many, many, many non-military situations.
Updates
99.1k downloads so far
Appears on "A word of the day" mailing list! 21jul2014
Please check/use the latest version, 2.1.0 before reporting bugs. 14sep2013
A version for Andriod is in alpha+ test. This is work with Ryan Moser at AxioDesigns. 14sept2013
There is a Portugese version (Cafina) now available (March 2013). If you would like to sponsor it, please contact us.
Currently (20feb2012), there is an updated version of the Lite version submitted to the iTunes store. It fixes the bug with the custom input. The paid version did not have the bug nor did iOS 4 devices. We are working to revise the app based on the suggestions so far, including more caffeine sources.
Currently (17feb2012), we are attempting to fix some bugs users reported. These bugs we hope will be fixed in about 3 days and then available through the iTunes store in about 7 days after that. We do test, but, ahh, sometimes we don't have all the hardware versions and sometimes we fail to test every part on every release because 'we know it works.' Teaching it is easier than doing it, of course. Also, we did not quite expect it to be so popular. Most users have been very kind, and we will be fixing what we can as fast as we can. Thanks to those providing constructive criticism.
Version 2.0.0: Paid version without ads, 9dec2011
Version 1.0.4: Minor fixes, with ads
Version 1.0.3: Three alarms/guards were added.

Min alarm: When this setting is turned on and caffeine level is about to be lower than Min Optimal, a notification will pop up.
Max guard: When this setting is turned on, you receive a warning if the current consumption will exceed the Max Optimal. You can still proceed and take the consumption.
Sleep alarm: When this setting is turned on, you receive a warning if the current consumption will exceed the Sleep Level at Sleep Time.

Version 1.0.1: First public release.

This version utilizes SQLITE 3 and improves data storage and retrieval to under 2 seconds, which is more acceptable.

Version 1.0.0: Internal release for testing.

This version is only available through direct deployment, never been released publicly.
One major problem we are working on is to improve the performance. It takes about 7 seconds to calculate the data and plot it in this version.
Manuals
v2.0.1 (current)
Screenshots (from versions 2.0.1)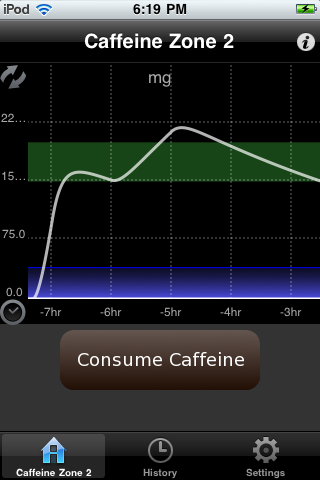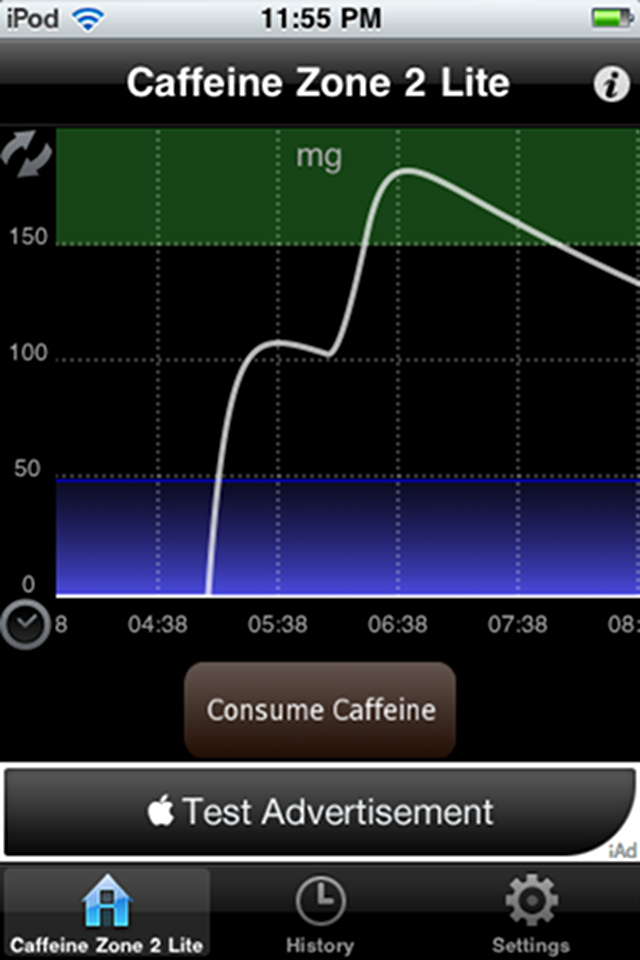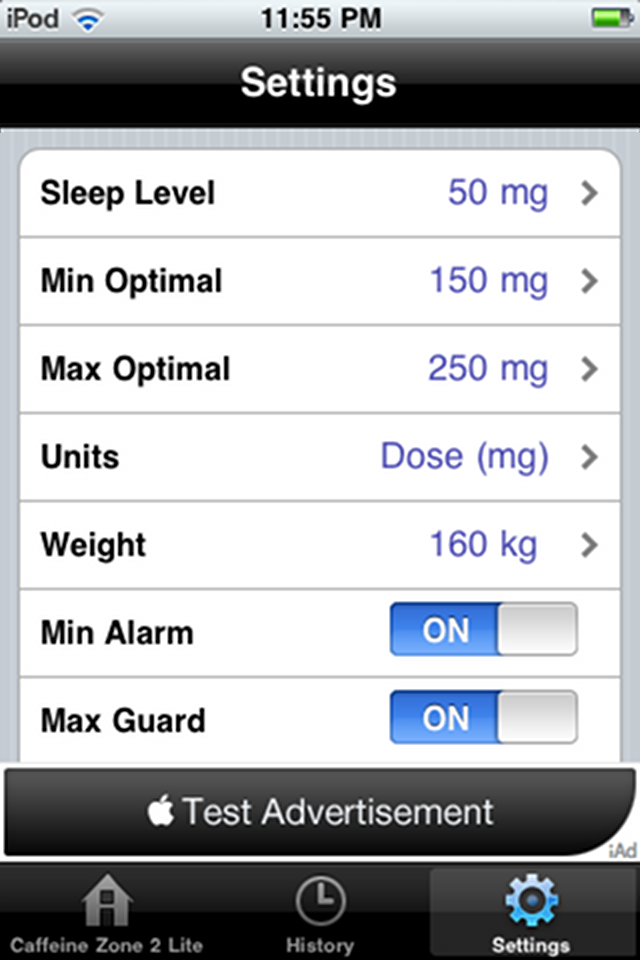 Video a user put onto YouTube, 20feb2012, probably related to this blog, ApfelNet.de, Folge 103: Caffeine Zone 2 Lite [in German, of older version of Caffeine Zone]
Features
Based on empirical research results of the pharmacokinetics of caffeine.
Displays graphically 24 hours before and after current time to demonstrate the caffeine level in your body.
Shows different colors for the areas of sleeping and cognitive optimal.
Select from Coffee, Tea, and Caffeine Gum as direct selections; or enter your own custom input.
Lists consumption history to easily retake the same type and amount of caffeine.
Allows clearing all data to start a day.
Customize parameter settings for individualization.
Presented as a research and educational tool.
Does not take account of the many factors that influence half-life and thresholds, including, individual differences, food intake, age, nicotene use, and certain medications.
System Requirements
the iPhone or the iPod Touch (also runs on the iPad in compatible mode)
iOS: 3.1.1 or later
Authors
Dr. Frank E. Ritter: Initiated the idea of monitoring the effect of caffeine use through a mobile app, maintains web site, designs and tests app.
Dr. Martin K.-C. Yeh: Developed this app and help maintains the app and web site.
Credits
Dr. Mark Cohen: Dr. Cohen created a pilot Java version of this software. It is the precedessor of Caffeine Zone™ 2.
Discussions with Dr. Laura Klein and members of her lab at Penn State taught Ritter about caffeine. Dr. Susan Chipman (now retired from ONR) has been supportive and encouraged this work.
ONR initially supported our work on understanding caffeine and stress, and modeling the effects of caffeine and stress on cognitive models. They did not support the development of this app, and any who says that has not checked their facts.
Media References to CaffeineZone
New You blog, Beauty Sleep Dilemma [2jan17]
Testimonial on Reddit, "really helpful to visualize my caffeine levels" [approx. October 2016]
Apptactics, Caffeine Tracking on iOS [12feb16]
Home Grounds blog, 15 research backed health benefits of coffee [4may16]
Oddesy Online blog, How To Tell If You're A Coffeeholic [25apr16]
NBCDaily, Caffeine Zone 2: Optimize The Amount Of Caffeine You Consume [iPhone], [11apr16]
Inc. 8 Caffeine Boost Opportunities You're Missing Every Day Caffeine can be a powerful boost when used correctly. [24mar16]
Attentive Home Care blog, Technology Can Help Seniors Lead a Healthier Lifestyle [29feb16]
Noted on the Dollar Shave Club blog [17 mar 17, 2015] and Facebook page [18mar15]!
Nominated for an award at the Tech Gala held at the Government Technology Institute at Harrisburg University on 9 April 2013
Oprah's O magazine, "4 Tiny Tweaks for a Healthier Caffeine Routine", April 2013, p. 110 (copy available upon request)
Mother Jones, "Did Jesus die for Klingons, too?", 20 nov 2012. Did not fact check, but got our name correct, for which we thank them.
Senator Coburn's report, No date, November 2012. [our cached copy]. It gets our name right, but missed who developed it, who paid for it, the appearence of the app, and why government scientists and active duty military are interested in it. But, the report got our name and our app spelled correctly! For this, we thank them.
CBS news, Seqestration could be Pentagon pork killer, web site and national news report 8 sept 2012. Our web site looks good, but the content SHOWN IN THEIR REPORT contradicts what is said by their announcer. But, **this web site and App** -- Now as seen on national TV!
How to optimize your caffeine consumption, 22 feb 2013, Caffex (commerical site)
Engineering, The magazine of the Penn State College of Engineering, Fall 2012 (p. 7)
Self magazine, July 2012, p. 79
Health magazine, June 2012, p. 12
Ampersand girls, 4jun2012. Caffeine + iPhone = double addiction.
MakeUseOf web site, 24 may 2012
Techedified site, 2apr2012
Men's Health site, 27mar2012. Find your caffeine comfort zone.
Fox News, 13mar2012. An iPhone app for coffee consumption: How to optimize your caffeine consumption. [includes interview information, is accurate.]
McGill Daily, 5mar2012. In the zone. Caffeine graphs ap.
Medcitynews site, 2 mar2012. Morning read: Caffine Zone keeps you perfectly energized
Daily Collegian, Penn State. Penn State researchers develop app to help caffeine drinkers track caffeine consumption. 2mar2012.
PA Matters, radio show, 29 feb 2012. New App Helps Find the "Caffeine Zone
Coffee Snobs, 21 feb 2012. CaffineZone - nother app
Huffington Post, 15 feb 2012. Caffeine Zone App Tells You When To Stop Drinking Coffee For Good Night's Sleep
BusinessWeek, 27 Feb 2012. The caffeine coach [cached copy]
BusinessWeek, 23 Feb 2012. Caffeine Zone, an App for Coffee Drinkers [mobile version]
BusinessWeek, 23 Feb 2012. How to Drink Your Coffee: There's an App for That
Sidney Morning Herald, 21feb2012. Best time for coffee? There's an app for that. [note that a study on caffeine was supported by ONR, but the developing the app was not.]
Fox 40 TV, Sacremento. Caffeine Zone 2 Lite App Says Keeps Eye On Your Intake
MakeUseOf site, 20feb2012
Betanews site, feb 2012
Yahoo site, 17feb2012. Free iPhone app optimizes your caffeine intake, tells you when to put your coffee mug down.
BoingBoing site, 17feb2012. How to optimize your caffeine intake: There's an app for that.
TechieBuz site, 17feb2012. Must have new smart phone apps: Remove, Caffeine Zone, Pingit.
Appisaurus site, 17feb2012. Stay perky with caffeine zone app.
The Daily Mail (UK). 16feb2012. The first cup of coffee is the deepest: App tells coffee drinkers how to stay 'caffeinated' through the day.
Italian medical site, The Medical Informer, 16 feb 2012
Slashdot, 16feb2012. Optimizing your caffeine intake with an app. [numerous useful comments.]
Discovery Magazine blog, 16feb2012. A caffeine-tracking app... that doen't actually track your caffeine? [Note, this blog asserts that ONR funded the development of this app, which is not true.]
Zipop site, 16feb2012, How to stay in the Caffeine Zone.
Futurity site, 15feb2012
Ubergizmo site, 15feb2012
ExtremeTech site, 15 feb 2012
Lifehacker site, 15 feb 2012
ScienceDaily site, 14feb2012. Best time for a coffee break? There's an app for that. [useful and correct except for attribution to ONR, ONR did not support this work, but supported precursor work.]
---
Last Updated: 10 feb 2019
Copyright © 2012-2019 Applied Cognitive Systems, LLC